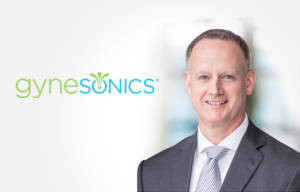 What is Gynesonics about? How are you changing the standard of care in uterine fibroids?
Gynesonics is focused on advancing women's health by developing uterus-preserving, incision free, transcervical technology.
Currently, we are focused on the treatment of symptomatic uterine fibroids, a condition that affects up to 50% of women and represents a $3-4 billion dollar market globally. When symptomatic, the condition can cause heavy, painful menstrual bleeding and fertility issues, greatly reducing the quality of life for the women affected.
To provide women with an alternative to the invasive and life-changing hysterectomy or myomectomy surgical procedures, we have developed the "Sonata® System" – the first and only system that integrates real-time intrauterine ultrasound guidance with radiofrequency ablation to treat a wide range of fibroids.
Sonata® is a breakthrough, incisionless solution that does not require general anesthesia and offers a fast patient recovery time.
Can you explain the spectacular results of your recent FDA study?
We have now completed 9/10 clinical trials including the Sonata® FDA IDE Pivotal Trial. Gynesonics was the first and only company to pass the FDA mandated bleeding reduction performance criteria in its pivotal trial.
The results were groundbreaking and were recently published in the peer-reviewed Journal of Obstetrics and Gynecology. The key results included:
99% of patients free from reintervention for symptoms (co-primary endpoint)
95% of patients with reduced bleeding symptoms (86% at 3 months)
97% of patients were satisfied
Significant decrease in treated dominant fibroid (62.4%) and uterine (12.9%) volumes
98% of patients found the procedure tolerable
50% of patients returned to normal activity the next day
You just closed a new round of financing that raised USD 75 million. Can you explain how you will be using the proceeds and how you plan to develop the company?
With the proceeds, we plan to obtain the regulatory clearances, complete additional clinical trials and commercialise the Sonata® technology globally. In addition, we plan to build on our success by launching the next generation radiofrequency ablation disposable handpiece.
For more information on Gynesonics and the Sonata® system, visit gynesonics.com