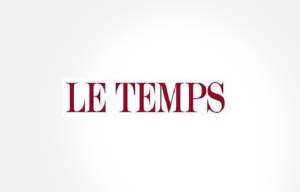 Endeavour Vision was featured in Swiss newspaper Le Temps on 30 May, 2020. Read the original article or scroll down for the English translation.
Actif dans les technologies médicales et la santé numérique, le fonds genevois Endeavour Vision voit son modèle d'affaires renforcé par la pandémie. Cofondateur de la société, Bernard Vogel entend accélérer la cadence des investissement.
PROPOS RECUEILLIS PAR ALINE BASSIN
Endeavour Vision est l'un des premiers fonds à s'être lances dans le capital-risque en Suisse. Depuis sa création en 2000, la société genevoise a investi650 millions de francs dans une trentaine de start-up, dont une dizaine en Suisse, à l'exemple de Sophia Genetics. Entretien avec Bernard Vogel, associé gérant et cofondateur.
Les entreprises du domaine de la santé suscitent un intérêt croissant chez les investisseurs. Est-ce que cet engouement va durer?
Ce secteur résiste toujours bien aux criseset, durant la pandémie, les investisseurs ont remarqué qu'il était fiable, stable et constant. Selon nous, l'innovation médicale va jouer un plus grand rôle ces prochaines années. La santé représente 12% du PIB en Suisse. Il va y avoir des efforts pour apporter plus de soins, mais il faut aussi contenir les coûts médicaux. L'innovation est primordiale pour optimiser la balance entre coûts et qualité.
Est-ce que la situation créée par la pandémie vous amène à revoir votre stratégie d'investissement?
Les besoins et les opportunités dans le secteur médical sont clairement en augmentation. Nous avons décidé d'accélérer la cadence d'investissement, tout en continuant à nous centrer sur les technologies médicales et de la santé numérique, un secteur qui va clairement s'accélérer avec le Covid-19. Un exemple typique, c'est la télémédecine, qui était marginale et est presque devenue la norme en quelques semaines. En général, une fois que les comportements ont changé, on ne revient pas en arrière.
A part Sophia Genetics, vous étiez plus en retrait dans la santé numérique.
On la regardait de près, mais elle souffrait de problèmes réglementaires, de remboursements très partiels, de manque d'adoption par le corps médical, et donc de nombreuses incertitudes. Ce secteur a plus évolué en un mois que les cinq dernières années, et maintenant qu'il a prouvé sa raison d'être, il existe de véritables opportunités de créer des scale-up [jeunes sociétés en forte croissance, ndlr] dans lesquelles nous pouvons apporter tout notre savoir-faire.
Toutes les entreprises actives dans la santé ne vont pas forcément profiter de l'engouement des investisseurs. De manière générale, toutes les sociétés médicales à forte innovation et permettant d'améliorer drastiquement le bénéfice patient tout en réduisant radicalement les coûts de la santé vont bénéficier d'opportunités de marché sans précédent et par conséquent de l'engouement des investisseurs. Mais il y aura aussi des perdants. Les hôpitaux vont par exemple être fragilisés économiquement. Par conséquent, ils vont forcément limiter les investissements dans les domaines non couverts par les assurances médicales. On en voit déjà les effets aux Etats-Unis. Nous, nous allons continuer à soutenir nos pépites suisses comme Polares, CeQur, Medartis ou Sophia Genetics.
A l'instar des start-up, vous devez aussi vous financer. Est-ce que vous craignez des difficultés?
En fait, nous sommes en train de lever des fonds. On a noté un ralentissement au plus fort de la crise, mais on sent déjà un regain d'intérêt. En revanche, comme nous sommes actifs aux Etats-Unis, les règles américaines ne me permettent pas d'en dire plus. Je peux simplement signaler que nous avons déjà rassemblé une grande partie de ce que nous visons. On voit que les investisseurs comprennent la valeur de ce secteur. Pour eux, c'est devenu un secteur refuge.
Est-ce que vous allez mettre un accent particulier sur les investissements en Suisse?
Nous sommes une société suisse et préférons faire des investissements en Suisse. Mais nous avons une stratégie globale et cherchons les meilleures sociétés, indépendamment de leur nationalité. Cela dit, la Suisse représente un terreau exceptionnel, avec le nombre de brevets en technologies médicales par habitant le plus élevé du monde.
Elle est plus discrète dans la santé numérique.
Grâce à son heritage horloger notamment, la Suisse est très forte dans les technologies médicales qui demandent de bons ingénieurs, typiquement pour des produits comme des implants ou nécessitant des techniques multisectorielles de haute précision. C'est vrai qu'elle est moins forte dans le numérique, mais l'accent mis notamment par les écoles polytechniques fédérales sur l'intelligence artificielle ou la convergence des technologies est très encourageant. Toutefois, dans ces domaines, les sociétés doivent très vite penser global, que ce soit pour les patients ou pour attirer les talents nécessaires au succès.
Justement, Endeavour Vision fait partie des investisseurs historiques de Symetis que l'entreprise Boston Scientific a rachetée, puis a décidé de délocaliser en Irlande. Est-ce que ce n'est pas douloureux de voir une telle société s'en aller?
Pour des raisons évidentes, je ne peux malheureusement pas commenter cette affaire. Je tiens cependant à souligner l'impact que cette société a eu sur la région et les retombées multiples qu'elle a pu avoir pendant plus de quinze ans, sans compter les vocations et la formation des nombreux talents qu'elle a soutenus pendant toutes ces années.
Mais comment faire pour maximiser le retour sur investissement pour la Suisse de toutes ces jeunes sociétés qui, très souvent, commencent leurs travaux dans des universités, avec de l'argent public?
Il ne faut pas regarder les choses comme ça. Il faut penser écosystème, compétences et volume. Pour qu'une boîte marche, elle doit être globale. Elle va aller chercher les talents, les compétences et les clients là où ils sont. C'est comme ça qu'elle va performer. L'écosystème de la région dans son secteur est un élément primordial pour son lancement, mais il doit être complete avec un accès global aux marches et compétences pour son développement. Chaque nouvelle start-up apporte sa contribution pour renforcer cet écosystème.
Faut-il craindre un movement de rachats en raison d'un accès au financement plus difficile?
Je ne crois pas. Au contraire, certaines grandes entreprises vont même être plus prudentes à court terme. Il y aura peut-être plutôt des fusions entre sociétés dans le domaine de la santé.
Comment faites-vous pour protéger vos start-up de l'impact de la pandémie?
Les allocations de reserve sont définies pour chaque société en portefeuille. Et nous avons des capitaux disponibles pour de nouveaux investissements. Nous avons déjà fait trois investissements cette année, et en prévoyons encore quelques-uns d'ici à l'été. Pour les start-up, lever de l'argent a toujours été difficile, mais cela va devenir certainement plus compliqué pour un grand nombre d'entre elles car, si les spécialistes continuent à investir, les family offices et investisseurs privés sont en retrait.
Est-ce que vous craignez de voir des pépites obligées de mettre la clé sous la porte?
Je suis optimiste: les pépites trouveront toujours tôt ou tard des investissements. La Suisse a une vraie chance au niveau des sciences de la vie, il faut absolument en être conscient. On investit dans des universités de pointe et bénéficions d'hôpitaux parmi les meilleurs du monde. Il faut continuer à développer le secteur, c'est stratégique pour notre pays. Car d'autres pays se réveillent en Europe et commencent à se positionner dans la santé.
English translation of an article appearing in Le Temps, 30 May, 2020.
"For investors, healthcare investment has become a refuge"
With its focus on medical technology and digital health, the Geneva-based Endeavour Vision fund is seeing its business model strengthened by the pandemic. Co-founder of the company, Bernard Vogel, intends to accelerate the pace of investments.
INTERVIEW BY ALINE BASSIN
Endeavour Vision is one of Switzerland's first venture capital funds. Since the firm was established in 2000, the Geneva-based company has invested 650 million francs in about 30 start-ups, with a dozen in Switzerland, including Sophia Genetics. An interview follows with Bernard Vogel, Managing Partner and Co-Founder.
There is a growing interest in healthcare companies among investors. Is this interest going to last?
This sector is still resilient to crisis and, during the pandemic, investors have come to realise that it is reliable, stable, and steady. In our view, medical innovation will play a greater role in the coming years. Health expenditure is 12% of GDP in Switzerland. There will be efforts to provide more care, but we also need to contain medical costs. Innovation is key to balancing cost and quality.
Does the situation created by the pandemic lead you to rethink your investment strategy?
The needs and opportunities in the medical sector are clearly increasing. As a firm, we have decided to increase the pace of our investments, while continuing to focus on medical and digital health, a sector that will clearly accelerate with the Covid-19. A typical example is telemedicine, which was marginal and almost became the norm in a matter of weeks. In general, once behaviour changes, you rarely return to the past.
Apart from Sophia Genetics, you were further behind in digital health investments?
We have followed the sector closely, although it faced regulatory issues and only partial reimbursements, as well as difficulties in adoption by the medical profession, and therefore faced many uncertainties. This sector has evolved more in a month than the past five years, and now that it has proven its "raison d'être", there are real opportunities to create scale-ups [young, fast-growing companies] where we, as investor, can offer our expertise.
Not all healthcare companies will necessarily benefit from enthusiastic investors. In general, medical companies with high innovation that bring significant patient benefit while reducing health costs will be able to take advantage of the market opportunities and have the support of investors. But there will also be losers. Hospitals, for example, have been weakened financially. As a result, they will inevitably limit investment in areas not covered by medical insurance. We are already seeing the effects in the United States.
On our part, we will continue to support Swiss companies such as Polares, CeQur, Medartis and Sophia Genetics.
Like start-ups, you also need to finance yourself. Are you afraid of difficulties?
In fact, we are currently raising a fund. There was a slowdown at the height of the crisis, but there is now a resurgence of interest. However, as we are active in the United States, U.S. rules do not allow us to say more. I can just point out that we have already raised much of our target. We see that investors understand the value of this sector. For them, it has become a refuge.
Are you going to put a place an emphasis on investment in Switzerland?
We are a Swiss company and prefer to make investments in Switzerland. But we have a global strategy and are looking for the best companies, regardless of location. That said, Switzerland is an exceptional breeding ground, with the highest number of medical technology patents per capita in the world.
It (Switzerland) is less active in digital health?
Thanks to its watchmaking heritage, Switzerland excels in medical technologies that require great engineers, typically for products such as implants or those requiring multi-sector techniques. It is true that Switzerland does not have the same legacy in digital, although the increasing focus of the Swiss Federal Institutes of Technology on artificial intelligence and the convergence of technologies is encouraging. However, in these areas, companies need to think globally, whether it's to access markets or to attract the talent needed for success.
Endeavour Vision is one of Symetis' historic investors, which Boston Scientific bought and then decided to relocate to Ireland. Is it not painful to see a company leave?
Unfortunately, for obvious reasons, I cannot comment on this case. However, I would like to highlight the impact this company has had on the region and the benefits it has brought for over fifteen years, not to mention employment, training, and talent it has nurtured.
But how can we maximize the return on investment for Switzerland of all these young companies who very often start their work in universities, with public money?
There is another perspective. You need to consider the ecosystem, skills and volume. For a company to prosper, it must be global. It needs to source the talent, skills and customers where they happen to be. That's how it will excel. The region's ecosystem is essential for its beginnings and launch, but it must be complemented with global access to the market and skills to support its continued development. Each new start-up makes its contribution to strengthening this ecosystem.
Should we fear a movement of buybacks because of difficulty in accessing finance?
I don't think so. In fact the opposite, some large companies will be even more cautious in the short term. There are more likely to be corporate mergers in the healthcare field.
How do you protect your start-ups from the impact of the pandemic?
Reserve allowances are set aside for each portfolio company. And we have capital available for new investments. We have already made three investments this year and expect to make a few more by the summer. For start-ups, raising money has always been difficult, but it will certainly become more complicated for many of them because, even if specialists continue to invest, family offices and private investors are moving away.
Are you worried that rising stars will close down?
I am optimistic that rising stars will always find investment sooner or later. Switzerland has a real opportunity in life sciences, and it is critical that we recognise this. We invest in universities and benefit from some of the best hospitals in the world. We need to continue developing the sector as a strategic imperative for our country. Other countries are waking up in Europe and are starting to position themselves in heath.