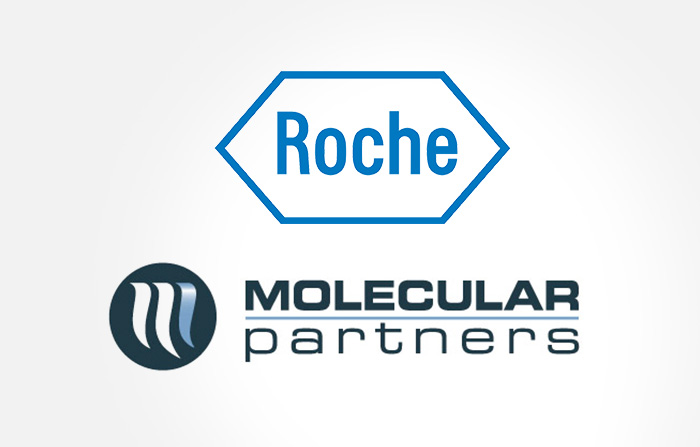 Partnership will combine novel biologics (DARPins) with Roche drug-conjugate technology
Basel, Switzerland / Zurich-Schlieren, Switzerland, 04 December 2013. Roche (SIX: RO, ROG;
OTCQX: RHHBY) and Molecular Partners AG today announced that they have entered into a research collaboration and licensing agreement to discover, develop and commercialize several proprietary therapeutics incorporating Molecular Partners' DARPin® biologics conjugated to toxic agents developed at Roche for the treatment of cancer.
DARPin-drug conjugates would be an exciting new class of drugs offering the potential of enhanced efficacy with substantial patient benefit over existing therapies.
DARPins are non-antibody-based small proteins where a variable region has been engineered for target binding. Their small size and high binding affinity enable them to hone in on and penetrate deep into solid tumors. DARPins are thus ideal targeting agents to deliver toxic agents to tumors to kill cancer cells. As a result of their ability to bind to different epitopes than antibodies, and by binding to multiple epitopes or targets in parallel at the same time, DARPins are believed to have a higher selectivity for tumor cells compared to other biologics including antibody drug conjugates.
"We are excited about this collaboration as the DARPin platform is truly complementary to our internal capabilities in the large molecule space," Sylke Poehling, Head of Large Molecule Research at Roche commented. "In the field of drug conjugates, we have identified an excellent opportunity to combine our expertise with the leading company in non-antibody scaffold technology to develop transformative cancer medicines."
Christian Zahnd, Ph.D., Chief Executive Officer of Molecular Partners, added, "Roche is one of the top players in oncology and specifically the toxic payload field. By combining its technical and commercial expertise with our DARPin R&D expertise, we can rapidly develop a pipeline of highly differentiated products offering a novel approach to treating patients far more quickly than we could do independently, offering new hope for patients with unmet medical need. The DARPin-drug conjugate is an exciting new product direction for us alongside our internal proprietary DARPins and our existing partnerships in ophthalmology and immunology."
Under the terms of the agreement, Roche has rights to develop and commercialize several DARPin-based products. Molecular Partners is entitled to receive upfront and initiation payments up to CHF 55 million. Furthermore, Molecular Partners will receive research funding and can earn more than CHF 1 billion if all development and sales milestones are met for all potential products. In addition Molecular Partners will receive tiered royalties on any future product sales into the double-digit percentage range.
About Molecular Partners AG
Molecular Partners is a privately-owned biotech company focusing on the research, development and commercialization of a novel class of biological drugs known as DARPins. The company is committed to create medicines for diseases with unmet medical need and to dramatically improve existing therapies. DARPins combine the high specificity, selectivity and safety of monoclonal antibodies with many advantages of small molecules, including high stability and low-cost production.
Molecular Partners has established a strong DARPin pipeline which is well differentiated from standard therapeutic approaches. Next to ophthalmology, Molecular Partners is focusing on DARPin drugs in inflammation, oncology and other disease areas. The internal pipeline is expanded by partnered programs with leading pharmaceutical companies. Molecular Partners has established alliances with Allergan and Janssen and other pharmaceutical companies. The
company is backed by a strong syndicate of investors and holds a strong patent estate covering all DARPin applications. For more information regarding to Molecular Partners, go to:
www.molecularpartners.com.
About Roche
Headquartered in Basel, Switzerland, Roche is a leader in research-focused healthcare with combined strengths in pharmaceuticals and diagnostics. Roche is the world's largest biotech company, with truly differentiated medicines in oncology, infectious diseases, inflammation, metabolism and neuroscience. Roche is also the world leader in in vitro diagnostics and tissuebased cancer diagnostics, and a frontrunner in diabetes management. Roche's personalised healthcare strategy aims at providing medicines and diagnostic tools that enable tangible improvements in the health, quality of life and survival of patients. In 2012 Roche had over 82,000 employees worldwide and invested over 8 billion Swiss francs in R&D. The Group posted sales of 45.5 billion Swiss francs. Genentech, in the United States, is a wholly owned member of the Roche Group. Roche is the majority shareholder in Chugai Pharmaceutical, Japan. For more information, please visit www.roche.com.
For further information:
Roche Partnering
Emilie Vincent, Head of Roche Partnering Communications, Molecular Partners
Dr. Patrick Amstutz, CBO

Dr. Christian Zahnd, CEO

Tel: +41 (0) 44 755 77 00