Vertiflex Announces Appointments to Board of Directors, Ray Baker, MD, and Richard Mott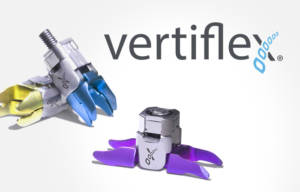 Company milestones demonstrate progress and commercial success of product portfolio
CARLSBAD, Calif. – 8 June 2018 – Vertiflex, Inc., a leading innovator of advanced, minimally invasive interventions for spinal stenosis, today announced two new members of its Board of Directors, adding strong clinical and industry expertise to the company's leadership team.
Ray Baker, MD, brings extensive clinical experience to Vertiflex. He is currently chief medical officer at Relievant Medsystems, Inc. Dr. Baker has advised the Centers for Medicare and Medicaid Services (CMS), the U.S. Food and Drug Administration (FDA) and the Centers for Disease Control and Prevention (CDC) on matters related to pain management. Dr. Baker previously chaired the multi-society pain workgroup for CMS and is past president of both the North American Spine Society and the Spine Intervention Society. His previous leadership experience includes vice president and executive medical director of EvergreenHealth Medical Group where he served on the Board of the Evergreen Surgical Center, chaired the EvergreenHealth Medical Group Leadership Council and was medical director of the Spine and Musculoskeletal Programs.
Richard Mott brings a tremendous wealth of experience in management and consulting of various private and public companies. He is currently a principal in Walkabout Consulting, LLC, a management consulting and private equity firm. Previously, he served as president, chief executive officer and director of Kyphon Inc., a NASDAQ-listed global medical device company, through its acquisition by Medtronic. Mr. Mott has held other executive positions, including chief operating officer at Wilson Greatbatch Technologies, Inc., a NYSE-listed medical technology company and executive operating roles within Bristol-Myers Squibb.
"We are excited to welcome the proven expertise and leadership of Dr. Baker and Mr. Mott to our Board. They both have excelled in their respective fields, and I am confident they will help shape and strengthen the strategic direction of Vertiflex." said Earl Fender, president and CEO of Vertiflex. "This is an exciting time for the company as the Superion® Indirect Decompression System is enjoying a steep growth trajectory. We see enormous potential for this therapy to help patients, with debilitating spinal stenosis, return to a full and functioning life."
Vertiflex recently reached important milestones, including the completion in March of a $45 million financing to support the significant and accelerating commercial growth of the PMA-approved Superion® Indirect Decompression System. To date, Superion has been used in more than 2,500 commercial cases, after one of the most extensive, rigorous FDA clinical trials on spinal stenosis. The company is also conducting an extensive registry to track commercial safety and efficacy of Superion, which continues to show outcomes equivalent to, or better than, the clinical results that were part of the filing for FDA approval.
About Vertiflex, Inc.
Vertiflex is a privately held medical device company dedicated to the advancement of minimally invasive solutions for the treatment of lumbar spinal stenosis, which is the leading cause of spinal surgery in the elderly. Founded in 2005 and headquartered in Carlsbad, Calif., Vertiflex has developed proprietary, minimally invasive technologies for performing both indirect and direct decompressions of the lumbar spine. These procedures fill the gap in the stenosis treatment continuum between conservative care and traditional spine surgery. Vertiflex has compiled the largest, most rigorous body of device clinical evidence related to lumbar spinal stenosis. For more information, visit www.vertiflexspine.com.
Contact:
Vertiflex, Inc.
Kathryn Larson, Sr. Director, Strategic Marketing

+1 442.325.594