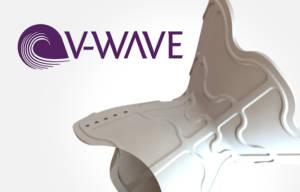 CAESAREA, Israel, April 26, 2018 /PRNewswire/ — V-Wave Ltd., an Israel-based company that has developed a proprietary, minimally invasive implanted interatrial shunt device for treating patients with severe symptomatic heart failure (HF), announced today that it has closed a Series C financing of $70 million led by Deerfield Management along with participation from new investors – healthcare funds Endeavour Vision, Quark Venture and Aperture Venture Partners. All of V-Wave's existing major investors are also participating in this round, including strategic investors Johnson & Johnson Innovation (JJDC Inc.) and Edwards Lifesciences, along with BRM Group, Pontifax, Pura Vida Investments, TriVentures, BioStar Ventures, and Israel Secondary Fund.
Having received approval from the FDA to initiate a pivotal IDE study, V-Wave also announced the upcoming launch of its global, randomized, controlled, double-blinded multicenter clinical trial – the RELIEVE-HF study – evaluating the safety and effectiveness of its novel device therapy in HF patients with Class III or ambulatory Class IV symptoms with preserved or reduced ejection fraction already receiving optimal therapies.
With more than 26 million people suffering from chronic heart failure globally (>6 million people in the USA), heart failure is the leading cause of hospitalizations in many countries; in the USA, it is Medicare's largest expense for acute hospitalization. Heart failure patients experience repeated hospitalizations, a poor quality of life, and a greatly reduced life expectancy.
"V-Wave has developed a novel technology that addresses the underlying cause of heart failure decompensations," remarked Dr. Andrew ElBardissi, Principal at Deerfield Management. "This technology has the potential to be the standard of care for a large segment of HF patients that continue to worsen despite the use of approved drugs and devices. In addition to improving outcomes for patients, this has the potential to significantly reduce the cost burden of heart failure."
"V-Wave's interatrial shunt provides clinicians a new tool to control elevated left atrial pressure, the primary cause of breathing difficulty and hospitalization due to worsening HF," noted Dr. William T. Abraham, Professor and Chief of Cardiovascular Medicine at the Ohio State University Wexner Medical Center. "The company's feasibility study results, presented in March 2018 as a late breaking clinical trial at the American College of Cardiology showed that shunting was safe and that morbidity and mortality were low compared to a matched population receiving optimal care. The upcoming pivotal trial in at least 400 randomized patients should provide sound assurance of the efficacy of this approach in patients that have a poor prognosis and few options."
Dr. Neal Eigler, Chief Executive Officer at V-Wave, said: "As an interventional cardiologist focused on HF for the past two decades, I am excited that with this funding, we can pursue the science that will bring us a giant step closer to commercial release of an easy to implant device that can provide the hope for immediate and longer-term symptom relief, increased exercise capacity, decreased need for acute hospital admission, and reduced mortality with an improved quality of life for hundreds of thousands of suffering patients."
About V-Wave Ltd.
V-Wave is a privately held medical device company with offices in Israel and the U.S. For more information, please visit www.vwavemedical.com
This press release contains certain forward-looking statements that involve risks and uncertainties, including statements related to clinical development and potential regulatory approval of V-Wave's products. All forward-looking statements and other information included in this press release are based on information available to V-Wave as of the date hereof, and the Company assumes no obligation to update any such forward-looking statements or information. The company's actual results could differ materially from those described in the company's forward-looking statements.
CAUTION: The V-Wave Interatrial Shunt System is not available for sale in the United States or other countries.
Contact
Murtaza Mogri, PhD

818-629-2164
SOURCE V-Wave Ltd.
Related Links
http://www.vwavemedical.com